Get a free C.V. review by sending your C.V. to submitcv@careerassociated.com or click the following link. Submit C.V.! use the subject heading REVIEW.
IMPORTANT: Read the application instructions keenly
Click the Links Below to Get Job Updates.
https://www.facebook.com/groups/1126060830815705
https://t.me/joinchat/EBWPu0Cfzh880lRySce_AQ.
---
The scope of work in Kenya will cover the overall management of the Veggies4Jobs project in liaison with the Veggies team in Ethiopia. 
The Project Manager will supervise and guide the project and will be based in Nairobi with extensive travel. S/he will have the following responsibilities:
 
Key Responsibilities
Establish, organize and manage the Veggie4Jobs project support office and project management structures;
Coordination and supervision of V4J staff as well as facilitation of smooth delivery of the project by partners and liaison with the Ethiopia team;
Champion policy review and implementation as well as translation of policies that are pro youth job creation especially within the agriculture sector.
Oversee the development of a VBN Platform starting with joint (market) assessments of local vegetable farmers, mapping potential commercial vegetable farming areas and explore strong business cases
Identify partnership/ collaboration opportunities in V4J supply chains and market development and develop partnerships with relevant private sector and other input and market players that are relevant stakeholders for implementation of the project.
Oversee the implementation of the knowledge, communication and marketing strategy
Liaise with local, public and private knowledge and training providers to explore their potential contribution to the V4J project
Conduct and supervise impact monitoring and evaluation activities based on the KPI framework provided by the project.
Budgeting planning and control supervision
Provide input for various internal and external publications and reports in English
Network and represent the V4J program at county/ national level during relevant meetings and other platforms in collaboration with the consortium.
Designing indigenous veggies production and marketing models fitting to the ecosystem
Steering identification, selection and establishment of model farms and demo sites for indigenous veggie production;
Linking farmers to (new) markets while searching for structured market avenues for VBNs
Supporting establishment/strengthening farmer aggregation and marketing enterprises
Preparing periodical project reports
Support and contribute to the overall Agriculture Sector strategy and BD
Advanced degree in Business Administration, Agribusiness, Horticulture, Agriculture, or any other related fields;
S/he should have at least 10 years' experience in working with smallholder farmers on value chain models in Kenya;
Experience and knowledge of the enterprise development approaches seeking to increase youth income and job opportunities
Exposure to project development and management at sector/systemic level, including the management of projects with a climate change and adaptation lens;
Knowledge and experience on formation and strengthening of production and marketing farmer organizations and the case of this project Vegetable Business Networks;
Demonstrated experience in strategy development in terms of choice of interventions, clients and partnerships;
Experience in partnership development, particularly at the county level;
Proven ability in overseeing M&E and a knowledge development agenda which will include – reviewing V4J Theory of Change, results framework and annual work plans, design and quality assurance of the M&E framework, and design/quality assurance of a framework for documentation of interventions around innovations facilitated by V4J;
Good networks in the V4J area of operation
Other requirements
Good leadership and management skills and experience in working in partnerships.
Ideally the candidate will have a background in Project Management and working with fresh produce buyers.
Should be a team player and an excellent communicator
Contract Duration:
2 years with possibility of extension.
Desired start date: July/August 2020
How to apply
Please apply by clicking the I'm Interested tab on this page and submitting application letter and a CV that contains three referees in English to the attention of Human Resources Officer before 23 June 2020 citing the position title as reference.
NB:
Only shortlisted will be contacted.
We do not appreciate third-party mediation based on this advertisement.
SNV Kenya does not require you to undergo any medical test prior to employment
.
.
.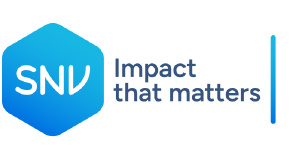 ---