Get a free C.V. review by sending your C.V. to submitcv@careerassociated.com or click the following link. Submit C.V.! use the subject heading REVIEW.
IMPORTANT: Read the application instructions keenly, Never pay for a job interview or application.

Click the Links Below to Get Job Updates.
https://www.facebook.com/groups/1126060830815705
https://t.me/joinchat/EBWPu0Cfzh880lRySce_AQ.
---
DIRECTORATE OF CORPORATE SUPPORT SERVICES
ASSISTANT DIRECTOR – ICT, JOB GRADE – EACC "5" (1 POST), REF. NO.: EACC/CSS/ADICT/4
Reporting to the Deputy Director – ICT
This position is responsible for the implementation of Information Communication and Technology strategies, policies and procedures for effective and efficient provision of information communication systems and technology functions.
Duties and Responsibilities
i. Managing team of consultants, programmers, developers, and analysts during systems analysis, design and development;
ii. Coordinating the development of effective ICT policies, procedures, systems and processes for system administration, security, business application and support network administration;
iii. Overseeing the development of ICT policies and plans in liaison with other directorates and stakeholders;
iv. Preparing guidelines and manuals for effective and efficient use of ICT systems in the Commission;
v. Developing and coordinating implementation of ICT business continuity plan in line with EACC strategy;
vi. Coordinating overall documentation for systems design specifications and configurations to user awareness;
vii. Coordinating project phases from development to installation and implementation;
viii. Making proposals to the strategic direction, management and culture of the whole organisation
ix. Developing and implementing ICT systems and ensuring that systems are maintained and made available to the Commission staff;
x. Developing requirements, outlines, budgets and schedules for ICT projects;
xi. Conducting technical research and feasibility studies, and development to enable continued innovation;
xii. Monitoring and evaluating systems to ensure adherence to established Information Communication Technology standards;
xiii. Developing programmes and training staff in Information Communication Technology matters to promote user acceptance in new or modified systems;
xiv. Developing, planning, monitoring and evaluating programmes/ activities within an Information Communication Technology division/ unit;
xv. Liaising with user departments to ensure proper usage and effective maintenance of Information Communication Technology equipment;
xvi. Evaluating systems maintenance and proposing detailed specifications before implementation;
xvii. Documenting system specifications and configurations to ensure user education;
xviii. Developing and managing integrity and backup procedures to ensure business continuity of business process in the event of disaster;
xix. Developing security standards, procedures and guidelines for systems to ensure the integrity of information;
xx. Monitoring the implementation of departmental work plans on monthly, quarterly and annual basis through review meetings and reporting.
For appointment to this grade a candidate must have:
i. Minimum relevant work experience of twelve (12) years;
ii. Must have served in the position of Senior ICT Officer or its equivalent for a minimum period of three (3) years;
iii. Bachelor's degree in Computer Science, Information Technology, Business Information Technology or related disciplines from a recognised university;
iv. Certification such as Oracle Database Administrator, Microsoft Certified Systems Engineer/ Microsoft Certified IT Professional, CISCO Certified Network Associate/ Network + or its equivalent;
v. Kenya Certificate of Secondary Education (K.C.S.E.) minimum mean grade of C+ or its equivalent from a recognised institution; and
vi. Knowledge of relevant legislation.
Note
The following qualification shall be regarded as an added advantage:
i. Master's degree in Computer Science, Information Technology, Business Information Technology or its equivalent from a recognised university;
ii. Strategic Leadership Development Programme (SLDP) lasting not less than six (6) weeks from a recognised institution.
In addition, the candidate must possess the following core competencies:
i. Leadership skills;
ii. Interpersonal skills;
iii. Ability to work under pressure;
iv. Negotiation skills;
v. Ability to build and lead cohesive teams;
vi. Problem solving skills;
Method of application
Interested candidates who meet the set criteria should complete EACC Form 1 online from https://jobs.integrity.go.ke and attach copies of ID, CV, academic/ professional certificates, clearances and testimonials. All applications must be made online and will be acknowledged via an email. Only shortlisted candidates will be invited for interview.
https://eacc.go.ke/default/careers/
The deadline for application is Monday, 7th June, 2021 at 5.00 pm.
EACC is an equal opportunity employer. Canvassing will lead to automatic disqualification.
SECRETARY/ CHIEF EXECUTIVE OFFICER ETHICS AND ANTI-CORRUPTION COMMISSION
.
.
.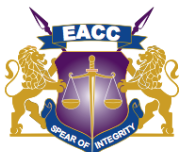 ---
Processing…
Success! You're on the list.
Whoops! There was an error and we couldn't process your subscription. Please reload the page and try again.
---